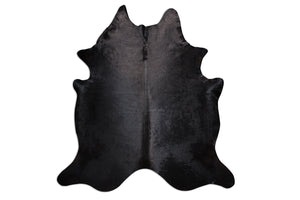 Turboprops
Black Beauty Natural Cowhide Floor Covering
Regular price
$ 190.00
$ 190.00
Unit price
per
Solid black intense finish and soft textured Natural Brazilian Cowhide combine to create a strong and unique look created by nature for you to cherish. This striking decor element will be a welcome addition to any room setting where a little drama is welcome. Contrast this with complementary furniture, table top and wall art pieces to create a home or commercial setting to remember. Natural color variations will occur as no two pieces are identical.
Hair on hide cleaning Instructions: For common spills or soil, blot with a paper towel or clean cloth immediately. Wipe with a clean, absorbent cloth or sponge. The cloth should be damp, not wet. You can use a mild non-detergent soap solution or cleaner such as Ivory Soap. Do not use Ivory liquid because it has a detergent base. Do not wash in washing machine or dry clean. Always allow the hide to air dry. Never dry with a hair dryer. Cleaning chemicals should NOT be used. If necessary, we suggest using a vacuum's soft brush attachment for dust and dirt particles.
Size varies slightly as this is a natural product.
Materials: Leather hair-on-hide
Features: Black
Overall Dimensions: 8' x 6'
Model: BNH-BLBTY-122
Collection: Floor Art
---