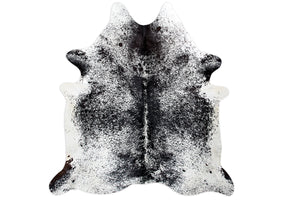 Turboprops
Black Sandy Beach Natural Cowhide Floor Covering
Regular price
$ 199.99
$ 199.99
Unit price
per
Walk barefoot on this soft and beautiful Brazilian Natural Cowhide piece floor art in salt & pepper speckles and be transported onto a soft sandy beach with-out the need to vacuum up the sand. The pattern will coordinate with other floor coverings and furniture items. Made of the finest Brazilian Cowhide tanned to perfection, this floor item will provide years of enjoyment. Natural pattern variations will occur as none of the pieces are identical.
Hair on hide cleaning Instructions: For common spills or soil, soak with a paper towel or clean cloth immediately. Wipe with a clean, absorbent cloth or sponge. The cloth should be damp, not wet. You can use a mild non-detergent soap solution or cleaner such as Ivory Soap. Do not use Ivory liquid because it has a detergent base. Do not wash in washing machine or dry clean. Always allow the hide to air dry. Never dry with a hair dryer. Cleaning chemicals should NOT be used. If necessary, we suggest using a vacuum's soft brush attachment for dust and dirt particles.
Size varies slightly as this is a natural product.
Materials: Leather hair-on-hide
Features: Salt & pepper speckles
Overall Dimensions: 8' x 6' 
Model: BNH-BLSB-115
Collection: Floor Art
---