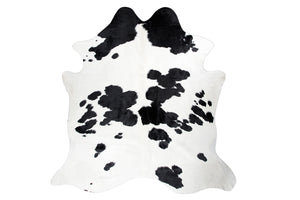 Turboprops
Ink Spots Natural Cowhide Floor Covering
Regular price
$ 190.00
$ 190.00
Unit price
per
How many different images can you see in this black and white Ink Spot Natural Brazilian Cowhide piece of floor art? Meditate and relax while focusing on the beautiful pattern in front of you and know that you have a unique design created by nature. White and black pattern coordinates with a monochromatic color scheme as well as bright additions of color. Lacquer and wooden furniture pieces also work spectacularly. Add your favorite wall art to complete the room. Natural pattern variations will occur as no two pieces are identical.
Hair on hide cleaning Instructions: For common spills or soil, soak with a paper towel or clean cloth immediately. Wipe with a clean, absorbent cloth or sponge. The cloth should be damp, not wet. You can use a mild non-detergent soap solution or cleaner such as Ivory Soap. Do not use Ivory liquid because it has a detergent base. Do not wash in washing machine or dry clean. Always allow the hide to air dry. Never dry with a hair dryer. Cleaning chemicals should NOT be used. If necessary, we suggest using a vacuum's soft brush attachment for dust and dirt particles.
Size varies slightly as this is a natural product.
Materials: Leather hair-on-hide
Features: Black/White
Overall Dimensions: 8' x 6' 
Model: BNH-IKSPS -120
Collection: Floor Art
---