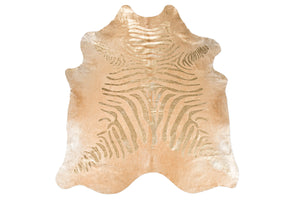 Turboprops
Photo Safari #3 Embellished Cowhide Floor Covering
Regular price
$ 320.00
$ 320.00
Unit price
per
Embark upon a unique Safari with a Golden Zebra stencil print upon a beige background. This Embellished Natural Brazilian Cowhide is designed using the World's finest materials and artisans. The glowing image brings light and joy to every room environment and stimulates lively conversation or quiet contemplation. Natural color and slight pattern variations will occur as no two pieces are identical.
Hair on hide cleaning Instructions: For common spills or soil, soak with a paper towel or clean cloth immediately. Wipe with a clean, absorbent cloth or sponge. The cloth should be damp, not wet. You can use a mild non-detergent soap solution or cleaner such as Ivory Soap. Do not use Ivory liquid because it has a detergent base. Do not wash in washing machine or dry clean. Always allow the hide to air dry. Never dry with a hair dryer. Cleaning chemicals should NOT be used. If necessary, we suggest using a vacuum's soft brush attachment for dust and dirt particles.
Size varies slightly as this is a natural product.
Materials: Leather hair-on-hide
Features: Gold/Beige
Overall Dimensions: 8' x 6' 
Model: BEH-GZB-127
Collection: Floor Art
---